People indulged in graphic designing and various other professions, where vector drawings are required, find great help in PDF to DWG converter. This is a remarkable tool that can convert the pdf file into a dwg one without tempering with the graphics and colors. The users of this tool can transport the output to Auto CAD for efficient editing and produce a result finer and more enriched than the original. Listed here are the top 3 advantages of using this converter.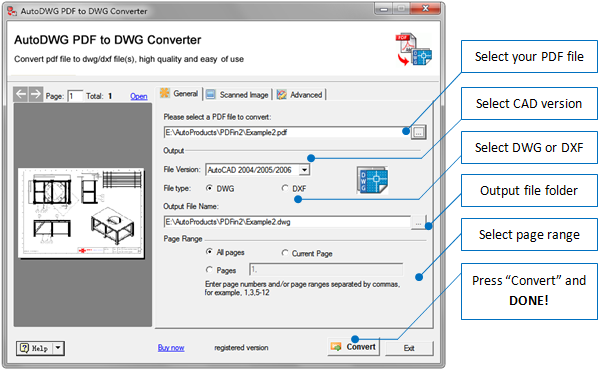 Possible to work with files of various sizes/quality
The designers get the freedom to work upon the files and images of various sizes and quality and can enhance their features in minimal efforts by using the strong features of Auto CAD. No matter how small or big the image is, it can be converted in comprehensive form using this tool.
Batch processing available to save time
A user need not waste full day or months converting one image or graphic at a time. The drawings can be zipped in a batch and processed in one go, provided all parameters are kept same. The result is uniform throughout the files and there is no file better or worse in quality when compared with each other. It is also possible to convert scanned documents.
Offers facility of preview
Before finalizing the output, it is possible to preview the window or the output to ensure that it is developed as per your expectations. Some converters work back ways also and provide facility to convert dwg to pdf too.
Thus, experimenting with ideas and retaining the original thought helps enrich the graphics quality and offers the learners to achieve various comparable versions, which can be reviewed and improved upon to find the best possible output. With such tool, the designers can present various outputs with varying quality and help clients make better decision.